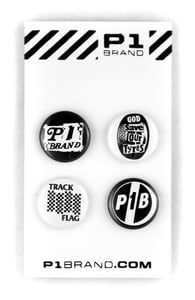 $

5.00
P1 Brand "Punk" Button Set, 4
New Arrival.
Featuring graphics inspired by a few of our favorite bands, the P1 Brand "Punk" Button Set is the perfect addition to any leather jacket. Includes the "God Save Our Tyres", "Track Flag" and "P.1.B." designs.
P1 Brand Button Sets are constructed of aluminum and are laminated for durability. Each button measures 1" in diameter. (Graphics may vary slightly from the example pictured.)
Designed and produced in the USA by P1 Brand.
Note: Mandatory state sales tax of 8.75% will be applied to all orders shipping to California residents.