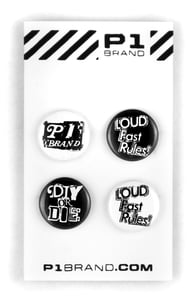 $

5.00
P1 Brand "Loud Fast Rules" Button Set, 4
New arrival.
If it's loud and fast then it obviously rules! Stimulate your senses with the P1 Brand "Loud Fast Rules" Button Set. Produced in collaboration with our friends at Double Edge Sword, add some punk flair with
these buttons, featuring the "Loud Fast Rules", "DIY or Die" and the P1 Brand "Collage" graphics.
P1 Brand Button Sets are constructed of aluminum and are laminated for durability. Each button measures 1" in diameter. (Graphics may vary slightly from the example pictured.)
Designed and produced in the USA by P1 Brand.
Note: Mandatory state sales tax of 8.75% will be applied to all orders shipping to California residents.