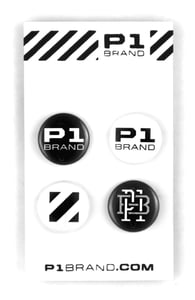 $

5.00
P1 Brand "Logo" Button Set, 4
Four buttons featuring various P1 Brand graphics that will easily enhance any hat, jacket or gear bag.
P1 Brand Button Sets are constructed of aluminum and are laminated for durability. Each button measures 1" in diameter. (Graphics may vary slightly from the example pictured.)
Designed and produced in the USA by P1 Brand.