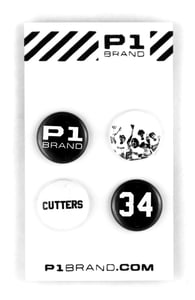 $

5.00
P1 Brand "Cutters" Button Set
New arrival.
A celebration of the working class underdog, the P1 Brand "Cutters" Button Set is a nod the to classic 1979 independent film, 'Breaking Away'. An homage to the team of Dave, Mike, Cyril and Moocher, who pedaled to a spirited victory in the 'Little 500'.
P1 Brand Button Sets are constructed of aluminum and are laminated for durability. Each button measures 1" in diameter. (Graphics may vary slightly from the example pictured.)
Designed and produced in the USA by P1 Brand.
Note: Mandatory state sales tax of 8.75% will be applied to all orders shipping to California residents.